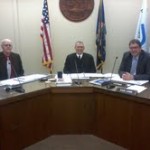 While most budget work sessions are held during regularly scheduled Riley County Commission meetings,  a special session was held Tuesday morning in the commission room.
The budget session, like all others, was open to the public, and several county department heads were in attendance.
Budget and Finance Officer, Johnette Shepek started the morning by sharing possible impacts when comparing 2014 to 2015.  She said the total impact could be just over $3 million.
Commissioners took some time to look over the budget, and decided to start by looking at the information technology (IT) department and the public works department, as they had the two largest increases in their budget requests from 2014.
IT Network Administrator, Corey Meyer indicated the reasoning behind the increase in their budget was due to computer and software upgrades.  Public Works Director, Leon Hobson also defended his budget, and mentioned the biggest increase in public works is the asphalt price increases.
Commissioners decided not to make any cuts yet, and addressed personnel raises instead.  They discussed step increases in pay, as well as cost of living allowance (COLA).
As indicated during their Monday meeting, the budget may not allow as much flexibility for the percentage in raises as they have previously given out.  Commission Chair, Robert Boyd even stated, "I don't think the commissioners need COLA raises, I'm comfortable with just giving COLA to the 'classified' employees".  Commissioners, as well as a few other county employees, actually fall under the 'professional' category of employees.  Commissioner, Dave Lewis seemed to agree with that thought.
The commission came to a consensus that they wanted Shepek to provide them the calculations on giving the professional employees step increases, but no COLA, and including 1.25% COLA for classified employees.  This would be a drop from the 1.6% previously figured in.  They also asked that she figure in the recent change of the Raising Riley RIGHT intern to full time.
Shepek said she will return with those numbers during Thursday's meeting.