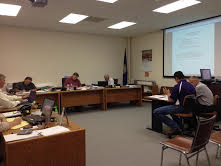 A proposed elementary school in southwest Pottawatomie County is causing Pottawatomie County commissioners to consider major improvements to Harvest Road, to the tune of about three million dollars. Chuck Bartlett of Alfred Benesch Consulting made a presentation to commissioners regarding a one mile stretch of the road from Excel to Lake Elbo Road.
Traffic is expected to increase from 80 vehicles a day to as many as 915 vehicles per hour during peak hours by 2030. Bartlett also talked about other aspects of the project, such as 100 foot right of way for the project. Bartlett  added a 10 foot wide multi-use path would be good for pedestrians and bicycles.
The school would have an estimated 400 students.  
Commission Chair  Stan Hartwich seemed supportive of the preliminary design, with Commissioner Gary Yenzer supporting one of the two alternatives presented more. Commissioner Pat Weixelman asked for a couple of weeks to explore the area a bit more, and asked about including the possible Junietta bypass in the plans.
It was a day for assessment hearings at the Pottawatomie County Commission meeting, with Whispering Meadows and Elbo Creek development examined.  Assessments for street, sewer, water improvements were involved.
There was no public comment during the hearing on the matter, and commissioners passed the resolutions, which will now be published, with notices sent to lot owners.
 Also at the meeting, Public Works Director Leu Lowrey told commissioners his crews will start to seal county roads. Hartwich also mentioned the construction of a new bridge project on Clear Creek Road.
Other items on the agenda included reports from the sanitation department, deed department, and the county counselor.