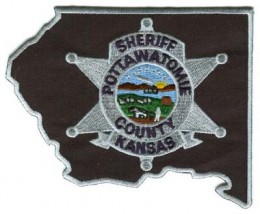 A citizen reported seeing a motor home parked in Linear Park near the Blue River Bridge in Manhattan, around 1 o'clock Tuesday afternoon.  After investigation, the motor home was found to have been stolen.
The citizen who reported on the motor home had watched a news cast about a similar stolen motor home from Nebraska that had been involved in thefts from Marysville.  The person alerted the Pottawatomie County Sheriff's Office, and deputies responded to Linear Park.
When the deputy confirmed the motorhome was reported as stolen, he took one male into custody.  Upon further investigation, three other suspects were linked to the case as well.
Arrested in this matter were Steven Gensler, 47, of Omaha, Nebraska; Denise Parks, 55, of Springfield, Nebraska; Douglas Hetrick, 34, of Omaha, Nebraska, and Teresa Minard, 30, of Omaha, Nebraska.
These four were taken into custody for possession of stolen property, and remain at the Pottawatomie County Jail.  A search warrant was issued, and illegal drugs were found within the motor home.