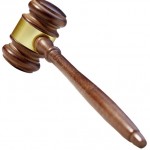 A Manhattan man accused of several major crimes, including kidnapping, appeared in Riley County District Court Monday afternoon, and attempted to fire his attorney.
Jerred Snyder (30) appeared in court alongside his attorney, Larry McRell for a motion's hearing. McRell stated he had a motion to withdraw as the court appointed attorney for Snyder in the two cases he faces.
Snyder faces kidnapping, aggravated robbery, and possession of stolen property from an incident that occurred in April, when he threatened a man at gunpoint, and eventually fled with the man's vehicle.
Judge John Bosch proceeded to ask Snyder if he wanted McRell to resign.  Once Snyder answered "yes", Bosch began to quote the sixth amendment, which states the court decides whether to appoint new council and the defendant must share viable dissatisfaction with appointed council.
Judge Bosch asked Snyder for the reasoning behind wanting to fire his attorney, and he answered by stating "not only was there a conflict in how I wanted my defense presented, but he was gone all of last week".  McRell had taken a vacation, and Snyder said he could not contact McRell to get his questions answered, and therefore felt like he couldn't review everything necessary in order to make an "intelligent decision" about his plea.
Snyder informed the court he had not seen all of the evidence for his two cases. "It's the rest of my life I'm making a decision about, I didn't feel I was going to have to make it [a decision]in a week", Snyder commented.  According to Snyder, he had not been given a list of his charges.  Judge Bosch replied, "you've been given all the information in this case, haven't you?"  Snyder insisted he had not been given everything.
McRell said, "we've certainly provided it and shared it with Mr. Snyder".
Judge Bosch denied the request at first, as he did not feel there was any real conflict. McRell said he did feel there was a "complete breakdown in communication", as listed in the sixth amendment, and said Snyder has tried to "fire" him on several occasions.
Although it was never made clear on what was said during previous conversations between McRell and Snyder, Judge Bosch decided to approve the motion for McRell to withdraw.  He set the case for another status on July 28th at 10:30 a.m., when a new attorney will be appointed.