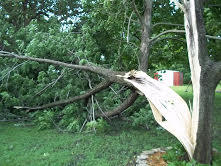 Pottawatomie County Fire crews responded to several calls related to Monday night's storm, beginning  at 10 p.m. and lasting until 2:30 a.m. Tuesday.
County Fire Supervisor Bruce Brazzle says the first call was in Onaga for lightning striking a house but no structural damage was reported.  A transformer was struck by lightning in St. Marys.
Power lines were down in the Blue Township area and more lightning strikes were reported in Louisville, where power lines were also knocked down and a brush pile caught on fire. Brazzle says luckily no structures were involved.
A lightning strike at a house in St. George resulted in no structural damage, although some electrical problems have resulted.
Brazzle adds there were some short road closures due to large limbs–anywhere from eight to 10 inch limbs in the Fostoria and Olsburg area.
County Emergency Management Director Chris Trudo tells KMAN wind speeds were estimated at up to 70 mph.