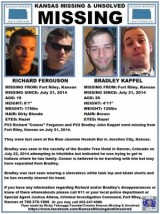 Two Ft. Riley soldiers last seen at a bar in Junction City more than a week have gone missing from post.
The soldiers have been identified 19-year old Richard Ferguson and 20-year old John Kappel who were last seen at the Blue Jasmine Hookah Bar in Junction City on July 22. It appears one of the soldiers was seen in the Denver area and the other might have been heading to Indiana.
Chris Gray the Director of Public Affairs for Army Criminal Investigations Worldwide tells KMAN he believes the soldiers may have left post on their own and that foul play was not involved. Meanwhile, Special Agent Joshua Althena of the Criminal Investigation Command at Ft. Riley declined comment.
If anyone has seen either of these individuals they're asked to call 911, local authorities or the Criminal Investigation Command at (785) 375-1806.