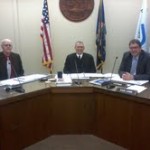 The "welcome to Manhattan" sign near the Bubble Wash off of K-18 may need to be re-located.  This was one of the discussed items during Thursday's Riley County Commission meeting.
The sign displays four recognizable logos from four different entities.  The commission was told the four symbols cannot be put on a welcome sign near the freeway.
Commissioner, Dave Lewis said the sign was established as a project of the sesquicentennial.  He mentioned the four organizations paid around $2,000-$2,500 each to be featured on the sign.  Commission Chair, Robert Boyd commented, "now they may have to pay that amount again to get the sign moved".
It is unclear at this time where the sign will be moved to, but Public Works Director, Leon Hobson has been working on the project.
—————-
Two other items were on the agenda.  The first of which was a general update from County Counselor, Clancy Holeman.
The second item involved a plat and two rezone requests, presented by County Planner, Bob Isaac.  The commission unanimously approved all three requests, for the one tract of land.