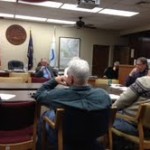 Two different presenters focused entirely on flooding during Thursday's joint Riley/Pottawatomie/City of Manhattan commission meeting.
U.S. Army Corps of Engineers Operations Project Manager at Tuttle Creek Lake, Brian McNulty presented the first discussion topic.  He shared information on the 1993 flood and what was done during that time.  He used different line graphs and charts to illustrate which water levels dictate what is done with the water.
McNulty also showed pictures of the gates and explained that only six gates can be opened at one time.
One of the major concerns in Manhattan is the increasing flood insurance rates.  Federal Emergency Management Agency (FEMA) Insurance Specialist, Robert Butler addressed this issue.
He explained how rates, premiums, refunds and surcharges work.  He also mentioned the national changes in insurance rates.  One change is that FEMA is now required to give each congressional member an updated map when their area is impacted so they have the new information.
Flood insurance rates have been discussed in each individual county commission meeting previously, as the increased rates are a growing concern.