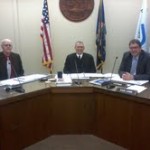 "I think those are numbers to be proud of", commented Riley County Commission Chair, Robert Boyd, after the county comparison presentation during Thursday's commission meeting.
KSU Ag Econ Extension Associate, Rebecca Bishop visits the commission once a year to share the comparison of county revenues and expenditures for the county and other similar Kansas counties, including Douglas and Sedgwick.
Some of the highlights of the comparison include:
lowest per capita expenditures and revenues in 2012
spent least on public safety
lowest property tax revenues per capita
spent less than ten county average, on employee benefits and general fund
Commissioners commented on having the lowest expenditures for public safety, and mentioned the county has a consolidated law enforcement agency, while the other counties have full sheriff's departments besides their police departments.
——————–
"I guess the numbers speak for themselves..", commented Register of Deeds, Debbie Regester.
Regester shared a staff report, that looked a little different from last month, as numbers were very low.  She said from her last report, until creating the new report, the office had not received a mortgage over a million dollars.
Commissioners said they expected problems to arise once the mortgage registration fee was eliminated, and encouraged Regester to continue to work hard.
——————–
During a commission break, Commissioner, Dave Lewis participated in the ALS Ice Bucket Challenge that aids in raising funds for ALS disease.
County Counselor, Clancy Holeman poured the ice water on Lewis.  In the video, Lewis said he would like to nominate a few people to take the challenge, including Commission Chair, Robert Boyd and Manhattan City Commissioner, Rich Jankovich.