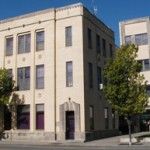 Manhattan resident, Ed Krieger chose to speak during the public comment portion of Thursday's Riley County Commission meeting.  He made comments in reference to the county commission race, where challenger, Ben Wilson beat incumbent, Dave Lewis in the primary.
Krieger requested that Lewis run as a write-in for the November election.  He also commented on the low voter turnout on Tuesday, and said "16% on turnout is terrible".
"The difference in experience-youth is very exuberant, but Wilson lives in the city.  The county is much more diverse than the city.  The three commissioners are managers, there is no city manager.  I question Mr. Wilson's experience as a student.  I understand he's a music major, which doesn't give you very much management or leadership.  Dave is a businessman, is very successful, and has been an asset to the county", commented Krieger.
——————
The rest of the meeting included several updates from department heads, including- County Appraiser, Greg McHenry and Noxious Weed Director, Dennis Peterson.
Assistant County Engineer, Gary Rosewicz requested the replacement of a transfer station loader, as it has over 10,000 hours of use and is a few decades old.  This was approved unanimously, and is budgeted.
County Extension Director, Jennifer Wilson gave a Riley County Fair report, and mentioned there were 1,937 4-H entries this year.  This number is down from last year.  However, open class entries were up by about 24 entries.