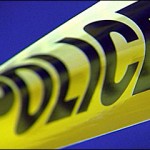 KMAN received this press release from the Kansas Department of Wildlife, Parks and Tourism just before noon on Monday:
Anthony Bernard Strange, Jr. (21) of Topeka, drowned Saturday evening while attempting to swim across Deep Creek at the Pillsbury Crossing Wildlife Area east of Manhattan. An autopsy will be conducted, but alcohol does not appear to be a factor in the tragedy.
The Riley County Police Department received a call for help from witnesses at 7:33 p.m., and the first unit arrived on scene at 7:44 p.m.Personnel from Riley County EMS, Manhattan Fire Department and Riley County Fire District #1 also responded along with law enforcement staff from the Kansas Department of Wildlife, Parks and Tourism (KDWPT). KDWPT began dragging operations at about 8:30 p.m. and recovered the victim about an hour later.
Mr. Strange was attempting to swim across the creek with friends when he began having difficulty and called for help. Witnesses tried unsuccessfully to locate him after he submerged. There is a sharp bend in the creek where he drowned, and the water is typically deeper near the outer bank where creeks and rivers make turns. The victim reportedly had not jumped into the water from cliffs at the location.
Pillsbury Crossing Wildlife Area is a popular summertime recreation area for fishing and paddle boating, but swimming and alcohol consumption are not allowed. Heavy timber lines the banks in the area. Natural streams often conceal underwater hazards such as fallen trees and branches, rocks, old fishing line and other debris which make swimming hazardous. In addition, there can be dangerous currents and eddies during times of heavy flow, although there was not a noticeable current where the drowning occurred.