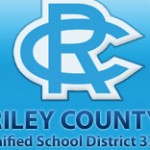 After several weeks of trying to find a replacement for a position vacated by outgoing Riley County USD 378 School board member, Dan Thomson, current board members Monday night approved a replacement board member to fill the vacant position.
Tom Richard was selected to fill the vacancy. Thomson resigned from the board due to the district's nepotism policy, with the recent hiring of his wife in the district.
Earlier in the meeting, Glen Hawkins put forth his own name for the open position. He was nominated and seconded, but the motion failed on a 3-3 vote.  Hawkins was recently a candidate for the Kansas House of Representatives 64th District seat.
The board also addressed staff pay in several votes:
Teachers/Staff- approved on a 6-0 vote
Superintendent-failed on a 3-2-1 vote
High school principal-failed on a 3-1-2 vote
Elementary principal-approved on a 5-1 vote
Assistant principal-failed on a 3-1-2 vote
The office configuration plan failed on a 3-2-1 vote as well.