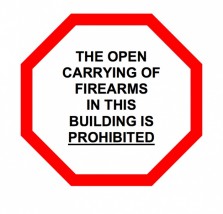 The Riley County Police Department issued a press release regarding the new open carry signs, and what they mean:
With changes to the open carry of firearms law in the State of Kansas, the Riley County Police Department offers the following information for those choosing to legally carry a firearm in Riley County.
Open Carry
Firearms may be openly carried on your person or in cars without any license.
Establishments may restrict openly carried firearms by posting an approved sign.
The minimum age allowable for legal open carry is 18 years of age.
Weapons being carried openly should be kept in a holster of some kind both for the purpose of safety and to indicate clearly that the weapon is being carried openly rather than concealed. Retention holsters are recommended.
Concealed Carry
A permit is required. The application for this permit can be found on the Kansas Attorney General's Office website or at Riley County Police Department Records Office.
When carrying concealed, please pay attention to the approved signs and follow them appropriately.
For more information on legally carrying concealed, visit the Kansas Attorney General's Office website.
Signs prohibiting open and concealed carry (Approved by the Kansas Attorney General)
State law requires that signs must be approved by the Kansas Attorney General. All other signs will not carry the same legal authority. These signs can be found on this page as well as the Kansas Attorney General's website.
Basic Gun Safety
Always store your firearms unloaded, secured, and away from children.
To further protect children from firearm accidents, we suggest that ammunition be stored in a separate location from the firearm.
Always use a gun lock, which blocks the trigger or passes through the barrel, if a safe storage box is not available.
Always treat a weapon as if it is loaded. Firearm accidents are avoidable in most cases.
Never point a weapon at anything you do not intend to destroy. Pointing a weapon at another living being comes with great responsibility and great consequences.
Participate in a gun safety class to familiarize yourself with the weapon you choose to use.