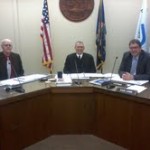 Although the 2014 primary election was held last week, the next step of the election process took place during Monday's Riley County Commission meeting.
After every primary and general election, an election canvass is held.  This allows election staff members to provide recommendations on which ballots should count, which should be rejected, and which should only be partially counted.
Elections Supervisor, Jolene Keck informed the commission this was the first year that all polling locations utilized iPad e-poll books.  Keck said this seemed to go very well, and it helped cut down on the number of provisional ballots.
The commission approved the 2014 primary election canvass report unanimously.
 ————————
During the meeting's press conference, Executive Director of  the 
Governor's Military Council, John Armbrust reminded the public the last day to write letters of support for Fort Riley is August 25th.
Budget and Finance Officer, Johnette Shepek said the 2015 budget public hearing will be held during the next regular meeting, on August 14th.  If anyone has any objections or concerns with the proposed budget, the public hearing would be the time to voice opinions.