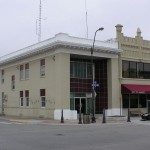 The City of Wamego received a good grade for its annual audit.  At Tuesday's City Commission meeting, Reese & Novelly's Carol McCullough went over the 2013 Audit, and said there were no significant reportable corrections and gave the City a 'clean report'. 
 
According to McCullough, there is one area accountants look at, and it's internal control.  She commended City Manager Merl Page and the City staff for having such good internal controls in place.  She noted the staff continually challenges her with questions to make sure entries are made in compliance.  She concluded by saying it was a good, clean audit and appreciated working with the City Staff.
 
In other business, Page said the City is a member of the Kansas League of Municipalities (KLOM), and received notice of the upcoming annual conference.  He said the purpose of the conference is education and leadership opportunities that set the course for legislative issues.  He said there will be five attending this year, and he recommended City Clerk Shanda Jahnke and City Treasurer Stacie Eichem as the two voting delegates.  Approval was granted.
 
 The Wamego City Commission approved a bid for the Airport runway project.   City Manager Page said the City applied for a Kansas Department of Transportation (KDOT) 90/10 matching grant for the mill/overlay of the Airport Runway.  Two bids were received, and Schilling Asphalt's bid was approved for the amount of $241,355.  The other bidder was Bettis Asphalt for $262,680.  Page said there was an alternate bid for millings, but it turned out the City will retain the millings for their own projects.
 
In other business, the Commission made several board appointments.  Robert Riat was reappointed for another 3-year term to the Airport Board that will expire September 3, 2017.  Rob Adams and Annette Rohde were appointed to the Planning Commission for another 3-year term expiring August 31, 2017.   Both Rex Figge and Denny DeWeese were reappointed to the Construction Board of Appeals for a 3-year term, expiring September 3, 2017.   Page said the Construction Board of Appeals is different because it requires the appointee's to be licensed.  The board consists of 2 each of electrical, mechanical, plumbing and construction contractors. 
 
In addition, approval was given to Joyce Alcott to hold the Walk for Warmth at the Rec Complex on September 28th from 12 to 4 p.m.  This event raises funds for the Council of Churches and provides outerwear to whoever has a need.