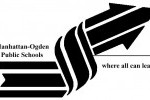 Updated: College Hill Preschool will be closing early today (Thursday, Sept. 18) due to the smell of gas in their building. All full day and half day students need to be picked up at Peace Lutheran Church, 2500 Kimball Ave., as soon as possible.
####
College Hill Preschool students and adults have been evacuated to Peace Lutheran Church at 2500 Kimball Avenue.  There is a strong smell of gas in the College Hill Preschool building. USD 383 maintenance and Kansas Gas Service are onsite.
Students and staff are all safe in the church. Lunch will be served out of the church's kitchen. Parents who pick up their student at 11:30am will pick up from the church. Preschool staff will be outside to assist parents.