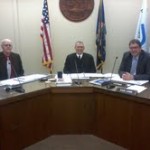 A Manhattan couple intends to construct an event center, a winery, and a home for themselves, off of Wildcat Creek Road.  Before this can be done, the Tegtmeier couple needed to explore rezoning the tract of land.
This rezone request was made during Thursday's Riley County Commission meeting.  The request was to rezone the tract of land from "AG" (agricultural district) to "A-PUD" (agri-business planned unit development).
Several rules and regulations were outlined in the presentation, made by County Planner, Bob Isaac, since the land would be used for both business and residential.  Isaac reviewed noise stipulations, since the event center would be primarily used for weddings, and capacity limits.  The maximum indoor occupancy for the event center will be 375 people.
As far as the timeline, the Tegtmeier couple hopes to have the winery, event center, and parking lot finished by August of 2015.  They hope to have their home built by December of 2019.
The commission did approve the request to rezone the property.
—————–
County Counselor, Clancy Holeman presented several items during his administrative work session, including a resolution amending the courthouse complex parking lot to include the fleet lot at 5th and Humboldt.
This resolution was approved unanimously.
——————
The Riley County Commission will hold their Flood Insurance Summit during their meeting on Monday.