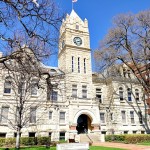 A Kansas State University student found dead in a vehicle on campus last November apparently died of a heroin overdose, and indications are he was with Gregory Melvin Haug Jr., also known as "Rory" in the time leading up to his death. An affadavit for application for a warrant disclosed by Riley County Court at KMAN's request indicates an autopsy revealed Jordan Forbit died of morphine intoxication, commonly referred to as a heroin overdose.
Haug of Olathe was arrested August 24th on charges of involuntary manslaughter, possession and conspiracy to possess heroin, and interference with law enforcement.
Facts in the affadavit indicate Forbit's body was found in his vehicle which was parked in the Kansas State University parking lot in the 1300 block of Claflin Road shortly after 10:30 p.m. on Wednesday, November 20th. Based on items found with Forbit's body, it was determined heroin was likely involved and that  another person had been with Forbit during or just before his death.
Syringes and other items found at the scene were sent for testing at the Kansas Bureau of Investigation Laboratory, and tests revealed heroin was present along with human blood inside the syringes.