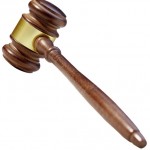 An Ogden man has been bound over on a number of robbery and burglary charges, following a preliminary hearing in Riley County District Court Friday morning.  Timothy Holmes, 43, is now set for a September 15th arraignment.
Holmes was arrested after an incident in Ogden last July, in which a man was stabbed. Another defendant,  Johnny Cossey,38, also of Ogden, faces attempted first degree murder from that aspect of the case.
Holmes' charges include two counts of aggravated robbery, aggravated burglary, and aggravated intimidation of a witness and/or victim.