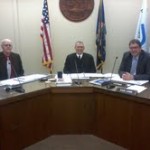 Previous Riley County Commission meetings have featured discussions regarding sign regulations.  But, during Monday's meeting, commissioners were able to view the proposed draft regulations that could possibly be implemented before the end of year.
A group of individuals, including Planning and Special Projects Director, Monty Wedel, looked at the current regulations, and adjusted them as they felt was necessary.  Wedel explained the group tried to stay as consistent as possible with the city's regulations.  He mentioned they made several changes, included new categories of signs, and therefore included new definitions as well.
Wedel explained his next plan of action is to hold additional work sessions on the matter, and invite two planning boards and the sign companies.  He added he believes they will be in a position to hold a public hearing on the topic in December, where the new regulations could possibly be approved.
————-
The 2015 County Budget Brochure is now available for the public.
Paper copies of the brochure can be found in the Riley County office building lobby, the county clerk's office and the Manhattan Public Library.  County residents can also find the brochure online at rileycountyks.gov.
————–
Several department heads presented items for the meeting's press conference.
Commission Chair, Robert Boyd highlighted recovery month by presenting Director of Pawnee Mental Health, Robbin Cole with a proclamation officially declaring the month.  County Extension Director, Jennifer Wilson mentioned some upcoming medicare programs, Jayme Morris-Hardeman with Sunflower CASA spoke briefly about the CASA Comedy Club event-being held Friday, September 19th, and County Counselor, Clancy Holeman invited the public to the federal delegation meeting on Monday, September 29th.