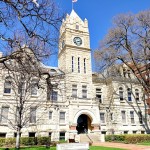 Vowing he would better himself and saying he wishes he could go back and change things,  Jerred Snyder, 30, of Manhattan was sentenced to 72 months for the kidnapping in early April of  Richard Rothfuss, 69, of Junction City. Snyder was also sentenced to 59 months for aggravated battey and 19 months for making a false writing, to serve concurrently with the six year kidnapping sentence.
The sentencing followed a comment from the kidnapping victim that it doesn't go away–with a written statement describing his lying in a ditch face down with a gun at his head as "devastating." Rothfus had urged that Snyder be put in jail forever.
Judge John Bosch during the sentencing said while kidnapping and aggravated robbery are very serious crimes, you don't lock up someone forever unless a murder is involved. Bosch told Snyder "you've got a number of years ahead of you." But the Judge pointed to the obvious support system from family and friends, with several supportive letters written–and said he was glad Snyder had already made strides toward rehabilitation.
Snyder's attorney Jillian Waesche had described Snyder as a highly commendable member of the community up until three months prior to the incident when he became addicted to drugs and alcohol and spiraled downward. She pointed to bible studies and other efforts made while serving in jail the past 144 days, which he will be given credit for in his sentence.
####
Also in Riley County District Court, a  43-year-old Manhattan man entered a plea of not guilty to six drug-related charges.  Eric Lipp was arrested in August for possession with intent to distribute methamphetamine and cocaine, and other counts. Lipp's jury trial is set for December 10th and 11th, with a pretrial status hearing November 17th. A request to reduce Lipp's bond was denied.