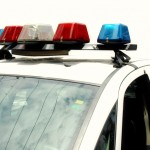 A third arrest was made in connection with the robbery incident that occurred in the 1300 block of Flint Hills Place here in Manhattan earlier this month.  Riley County Police announced this third arrest Tuesday morning, as the man was arrested around 12:30 p.m. on Monday.
The Riley County Police Department made this arrest for aggravated kidnapping, kidnapping, and aggravated robbery after an investigation into the matter led to probable cause of an additional subject.
Rasheem Wilson (26), of Manhattan, was arrested in the 400 block of Maple Place for the crimes previously mentioned.  He was given a bond of $150,000.  Additional arrests regarding area robberies, which may or may not be connected, are anticipated.
The investigation into area robberies is ongoing and police ask that anyone with information contact RCPD or the Manhattan Riley County Crime Stoppers.  By using Crime Stoppers, you could become eligible for a cash reward of up to $1,000.