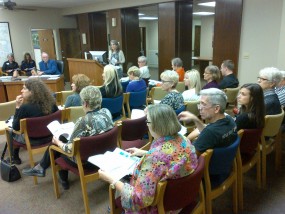 For their third, and final, meeting of the year, the Riley County Board of Health (BOH) focused primarily on two major assessments:  the Comprehensive Community Needs Assessment and the Local Public Health System Assessment.
The Riley County Commission serves as the board of health, so this open meeting was held in the commission room on Monday evening.  Several dignitaries and local officials were in attendance, including Representative of the 66th District, Sydney Carlin and Manhattan City Commissioner, Usha Reddi.
After Riley County Health Department Director, Brenda Nickel provided some opening remarks, President of En Visage Consulting, Connie Satzler shared a brief overview of the Local Public Health System Assessment.  This assessment was conducted in June and utilized around 100 community members to answer 200 health related questions.  The event took place all day, and focused on ten essential public health services.  Satzler was proud to report none of these essential services scored in the "no contribution" or "minimal contribution" range.
Public Health Educator, Katy Oestman shared an overview of the Comprehensive Community Needs Assessment.  95% of county employees completed this assessment, and the county health department is one of the five largest in the state.  Oestman said this process has been "robust", but is now near completion.  The survey was given from April-May by the Center for Community Support and Research at Wichita State University.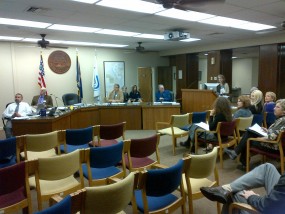 Since this was Commissioner, Dave Lewis's last meeting as a BOH member, he commended the health department and the community members for their efforts.  Commissioner, Ron Wells also thanked Lewis for being a "great mentor" the past couple years.