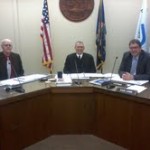 Several Riley County department heads and employees turned out for the CIP (capitol improvement project) work session, held during Monday's county commission meeting.
Budget and Finance Officer, Johnette Shepek informed the commission they should have around one million dollars to spend for this year and next year's non-funded purchases.  The long list of projects and equipment purchases is prioritized by department heads, and includes estimated prices.
Since the million dollars needs to carry over through next year, the commission chose to keep this year's purchases to $500,000 or less.
After further discussion, the commission chose to activate seven different items:
$80,000-asphalt replacement at CiCo Park
$20,000-Fairmont playground sidewalk and bench
$25,000-repair salt shed door
$26,000-3/4 ton 4×4 extended cab pick-up
$60,000-tractor for Parks Department
$45,000-motor grader packer/roller
$100,000-sign truck
These projects add up to a total of $365,000.
The commission also chose to activate a server room power addition to the law enforcement center.  This $80,000 purchase will come out of the RCPD fund.