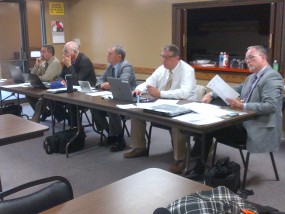 During their first stop on their small towns tour, the Riley County Commission held their meeting in Riley on Thursday.  The commission will make three other small town stops this month in Leonardville, Randolph and Ogden.
Several local residents attended the meeting, two of which voiced concerns about one of their neighbors.  Both lived on Driftwood, near Tuttle Cove Road, and mentioned one of their neighbors will likely be forced to move his driveway entrance from Tuttle Cove Road to Driftwood.  This would mean the resident would be accessing a benefit district road, without actually being a member of the district.
Both residents seemed to agree this wasn't fair.
Public Works Director, Leon Hobson did answer a few of the questions that were raised.  He commented, "it's more than just an entrance issue, it's definitely a neighborhood squabble".  He also stated they definitely need to move forward to resolve the issue.
The commission indicated they would revisit this issue at a later date.
Numerous department heads presented staff updates including Planning/Special Projects Director, Monty Wedel; Budget and Finance Officer, Johnette Shepek; and County Appraiser, Greg McHenry.