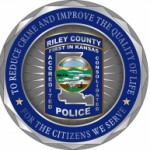 The Riley County Police Department is asking for the public's assistance after an incident involving subjects who were thought to be armed. This incident occurred in the 1200 block of Kearney Street in Manhattan this morning at approximately one o'clock.
The victim, a 25-year-old male was reportedly approached by two unidentified males and forced to drive them to an ATM. They demanded that the victim give them money or face physical injury.
Before these crimes could escalate further, police were contacted with a description of the victim's vehicle and were able to locate it and perform a traffic stop. At this time the suspects fled on foot and have not been located at the time of this release. A search of the area was conducted by a multitude of police officers which included surrounding agencies and a helicopter supplied by the Kansas Highway Patrol.
The suspects were wearing Halloween masks at the time of this incident and police are withholding the name and personal information of the victim due to the nature of these crimes and the current status of these suspects.
Police were contacted shortly after the incident began and immediately initiated this investigation into aggravated kidnapping, aggravated robbery, aggravated assault, and criminal threat. If you have any information about these crimes please contact RCPD or the Manhattan Riley County Crime Stoppers.
The Manhattan Riley County Crime Stoppers can be reached anonymously by visiting www.ManhattanRileyCountyCrimeStoppers.com or calling 785-539-7777. By using this service you could become eligible for a cash reward of up to $1,000.00.
RCPD discourages the public from attempting to apprehend these subjects. Please instead contact the department by phone at 785-537-2112 or 911 in an emergency.