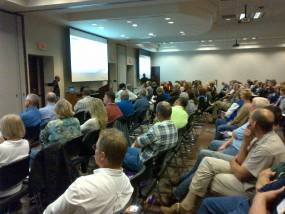 For the past several years, Columbus Day has been utilized for a mandatory Riley County staff training day.  This year's training was held at the usual location, the Farm Bureau building, but focused on a new topic.
With the different shooting situations around the nation over the past couple of years, and the concealed carry discussions, Human Resource Manager, Cindy Volanti said "violence in the workplace" seemed to be a good choice of theme.
Volanti organizes the staff training days every year.  She scheduled several presenters to speak throughout the day, including Riley County Police Department officers and Riley County Commissioners.
During the RCPD presentation, officers showed an active shooter demonstration video.  They spoke about the difference between "lock-outs" and "lock-downs".
Officers also answered questions, one of which was about concealed carry.  The county employee asked if his staff was being endangered and he needed to enact his concealed carry rights to defend them, how would the officers who arrived on scene be able to tell he wasn't the shooter who entered the building?  Although it would obviously be a high pressure situation, the officers said a concealed carry individual can usually explain the situation when the officer enters the building.
The day concluded with a few breakout sessions.