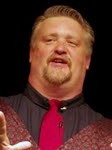 Despite his efforts in convincing Riley County Chief Judge, Meryl Wilson to give him probation-Tracy Shane Roberts, of Wamego, will serve 18 months with the department of corrections.
Roberts faced 30 counts of theft from the Flint Hills Builders Association, where he used to serve as the executive director.
Judge Wilson began the sentencing by mentioning he had received several letters from local individuals.
Roberts provided a statement, saying "I have committed a very dishonest act.  I am very sorry.  I can only hope that I am able to make amends to them [Flint Hills Builders Association].
He went on to say he is taking steps to rehabilitate himself:  giving up control over family finances, talking to a therapist, meeting with a psychiatrist, and attending a Bible study.  He said this kind of action will never happen again because he has come far enough to know better, and is "disgusted" with himself.
He concluded by stating, "I love my family enough to beg you for probation".
Flint Hills Builders Association Past-President, Patrick Schutter took the stand and answered a few questions.  He first explained what the association was, and mentioned the group is primarily made up of contractors and sub-contractors.
According to Schutter, there were other incidences of thefts besides the 30 counts reported.  Schutter commented, "there were many, many more items on the list.  The ones reported were just the large ticket items".
Schutter informed the court, Roberts was the only paid employee within the association.  When Prosecuting State Attorney, Barry Disney asked, "how much trust did you put into the defendant?"- Schutter replied by saying, "too much".
Schutter also provided a written statement from the association:
"We should have caught this theft much earlier than we did.  He bled us dry and left us with a considerable amount of debt.  He bought a diamond ring and steak dinners with nonprofit funds that were taken.  He worked hard to deceive us instead of working hard for us".
Schutter mentioned Roberts made threats to quit back in 2012, as he was not good at keeping up with the books.
The Flint Hills Builders Association asked for the maximum confinement time, and not just "slapping him on the wrist".
Defense Attorney, Larry McRell reiterated Roberts's request for probation.
McRell mentioned Roberts's past financial situations, as he filed for bankruptcy previously after his business failed.  McRell stated that putting Roberts in prison would be problematic "because it would make everything harder".
Disney asked for prison time, just as the Flint Hills Builders Association did, and said "you're [Roberts] a grown 43 year old man, and you're stealing like you're 12".
Before sentencing Roberts, Judge Wilson made some comments.  He brought up the fact that Roberts faced a theft charge in 1992 in Colby, and a felony level forgery charge in Hill City back in 1993.
"I have a hard time understanding a lot of things, this is one of them that baffles me.  I've been here 18 years and have never had someone not say sorry.  It's pretty easy to say how sorry you are when you've been caught".