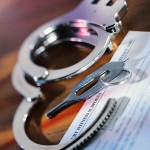 A 19-year-old Manhattan man originally thought to be a victim is now listed as a suspect in an attempted robbery Friday night. Christopher Hudgins faces charges of attempted aggravated robbery, conspiracy to commit aggravated robbery, and contributing to a child's misconduct, with a $100,000 bond.
As KMAN reported Monday, Riley County Police dispatchers received a call from Mercy Regional Health Center regarding a subject who arrived at the emergency room with a gunshot wound. Hudgins reported he was shot in the face during a robbery attempt in the 2300 block of Candlewood Drive.
But now Hudgins and two other teenagers face chargegs in connection with a home invasion in the 2300 block of Cheryl Terrace. Also facing charges are Tyrel Daniels, 16 and  Mason Davis, 17, both of Manhattan.