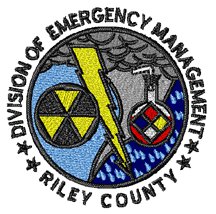 Updated Monday noon:
The name of the boat operator involved in Saturday evening's water rescue at Tuttle Creek Lake has been released. Clark Linders of Manhattan was operating the boat.
Ron Kaufman, Director of Information Services with the Kansas Department of Wildlife, Parks and Tourism describes the victim as a 61-year-old who is being treated at Stormont-Vail in Topeka. Kaufman indicates his agency is still in the process of interviewing Linders and determining what happened, with damage to the hull of the airboat involved.
Updated Sunday morning:
Riley County Emergency Management Director Pat Collins released more details Saturday night, indicating the victim transported was a man, whose name has not yet been released. Rescue efforts began at about 6:30 p.m. Saturday, with a reported airboat accident. The individual was able to swim to shore but it was in an area with difficult access by road. A person walking later heard the man, who reportedly was suffering from hypothermia.
Riley County EMS, and Riley and Manhattan Fire Department crews assisted in the rescue.
###
One person has been transported to Mercy Regional Health Center. This information turned up as of 9:20 by EMS Director Pat Collins.
###
KMAN has received word of a rescue in progress at Stockdale Cove at Tuttle Creek Lake by Riley County EMS.
This was reported at approximately 8:20 P.M. by Riley County Emergency Management Director Pat Collins.
KMAN will continue to update this story as we receive information.
###