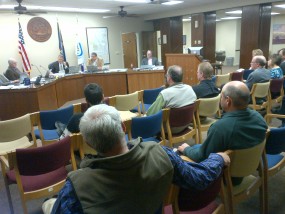 An 80 acre parcel of land, off of Zeandale, was offered to the Riley County Commission as a donation.  The property is owned by Charles Smith, and includes a three-bedroom home and associated outbuilding.
The item was discussed during Monday's commission meeting, and several members of the public were in attendance for the discussion.
Several businesses and other entities expressed interest in utilizing the land-such as the Pathfinder and Big Poppi Bicycle.  Employees from Big Poppi's were in attendance, and mentioned they believe the area would provide additional miles of walking/biking trails which would draw tourists and contribute to economic growth.
Ron Wilson, who lives adjacent to the donated property, spoke against the idea.  Wilson voiced several concerns with purchasing the land-as he said there is a significant amount of work needing to be done.  While Wilson did agree the area would be great for trails, he stated there are roads that would need to be updated-as emergency vehicles cannot reach the site currently.
While all of the commissioners commented on the beauty of the spot, and agreed the area would provide a great setting for outdoor recreational trails, they all seemed to agree on the financial magnitude of the property.  Commissioners discussed the financial constraints they are currently experiencing within the county, and this property would add additional needs into the mix.
"While I certainly am sympathetic to the vision of it, I don't think it falls under a priority structure I feel comfortable with", commented Commissioner, Dave Lewis.
"I think we just can't get beyond the concerns voiced, and those are added costs", added Commission Chair, Robert Boyd.
The commission unanimously chose to deny the offer.
———–
In other business, the Riley County Health Department presented their new hours of operation.
Health Department Director, Brenda Nickel provided some background on the item, and mentioned this process originally began back in July.  Public Health Analyst at the Kansas Health Institute, Sarah Hartig also assisted in the process, and therefore did part of the presentation.
The new hours, which were approved unanimously by the board to start on December 22nd, are:
M-W- 8 a.m.-5 p.m.
Thurs- 8 a.m.-7 p.m.
Friday-8 a.m.-3 p.m.
Administrative hours will be 8 a.m.-5 p.m. every day of the week.
Fort Riley's WIC office will continue with the same hours they currently have.