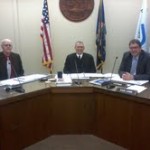 Previous public building commission (PBC) discussions have caused a few differing opinions to arise on the matter.  Riley County Commissioners have had several previous conversations about the possibility of forming a public building commission.  Several complaints were originally brought forward by area residents, but soon subsided after the commission cleared up some misperceptions.
During Thursday's meeting, the commissioners reviewed the format for their upcoming public building commission meeting. Commission Chair, Robert Boyd stressed, "this meeting is just to educate, not to advocate".
County residents are invited to attend the meeting to provide their thoughts on the draft bylaws, and to raise any concerns they might have.
County Counselor, Clancy Holeman has prepared three poster boards and a power point presentation that will help provide an overview of the PBC.
Nothing has been approved yet regarding a PBC.
This meeting will be held at the Fire Station Headquarters off of Denison, on Monday at 7 p.m.
————
A few department heads provided updates during Thursday's meeting, including Appraiser, Greg McHenry and Noxious Weed Director, Dennis Peterson.
Budget and Finance Officer, Johnette Shepek shared the accounting for reimburses expenses vs. charge for service report.  Shepek, as well as County Clerk, Rich Vargo, mentioned reimbursements have changed several times over the course of the past few years, and they continue to be adjusted consistently.
The commission did approve the auditor's recommendation that Shepek presented.