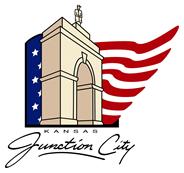 Junction City Mayor Mike Ryan and Commissioners want residents and City employees to have a voice in the City Commission's selection of the next City Manager.
On November 13, as part of a candidate interview process, two finalists for the City Manager position will be asked to make short presentations and respond to audience questions at separate, hour-long public forums.  The forums are scheduled for 3:00 and 4:15 p.m. on the second floor of the Opera House at 135 W. 7th Street.
At the end of each forum, those attending may offer observations about the candidate's performance by completing comment cards.  The Mayor and City Commissioners will consider community and employee advice in making their selection decision.
The City Commission will interview two candidates for City Manager.  The finalist candidates are both experienced in municipal management: Allen Dinkel, currently City Administrator at Neodesha, Kansas; and Fred Gress, most recently City Manager at Parsons Kansas.
Fred Gress has a nearly 20-year career in municipal management in Kansas.  Most recently, he was City Manager in Parsons for seven years. Other earlier positions include City Administrator at Willard, Missouri; Director of Finance at Fort Scott, Kansas; and Finance Director/City Clerk at Independence, Kansas.  He also has more than ten years experience as owner/operator of a private business.  His career has afforded him broad experience in public finance that includes leading Parsons to establish and later improve its bond rating, thus enabling lower borrowing costs for financing street improvements.  His Parsons experience also includes establishing a stormwater utility and reducing health care costs by 12 percent through prevention initiatives.  Gress has a masters degree in regional community planning from Kansas State University.
As a Kansas municipal manager for nearly 25 years, Allen Denkel has across-the-board experience in all aspects of municipal management and service delivery.  Currently, he has been City Administrator at Neodesha for the past four years.  His previous positions in Kansas include City Manager at Abilene; City Manager at Hoisington; and City Administrator at Oakley.  His experience in infrastructure development – streets, parks, and water and sewer lines – goes beyond the ordinary challenges. His career is notable for his role as City Administrator in helping Hoisington recover successfully from an F-4 tornado that destroyed more than one-third of the community.   In his current Neodesha position he has assumed a lead role in retaining and recruiting industrial businesses, and improving the City's general and utility fund balances.  Dinkel also has a track record of obtaining federal and state grants for municipal projects.  He earned a masters degree in journalism from Fort Hays State University.
"Our discussions prior to initiation of this recruitment process have helped us build solid consensus on our preferred City Manager candidate." said Mayor Mike Ryan.  "Commissioners and I are pleased at the quality of our finalists and have confidence that with advice from employees and our citizens, we can select the candidate who is the best fit for our City."
Selection of a City Manager began in September with City Commission approval of a recruitment profile. Twenty-three resumes for the position were received.  Resumes were screened based on the City Commission's preferred qualifications:
1) eight years experience as a local government manager or assistant manager;
2) masters degree in public administration from an accredited university;
3) record of success in resolving public finance challenges;
4) expertise in business and industrial development;
5) experience with a community/military base relationship; and
6) designation as an ICMA Credentialed Manager.
In addition to an interview with the City Commission and public forums, the finalists will be hosted for a tour of City facilities and the community, and meet informally with City department directors.  Complete reference interviews and formal background checks have also been conducted on each finalist.
City leaders hope to have the next City Manager on the job by January of next year.