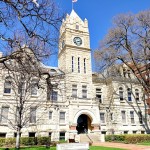 Three men charged in connection with the aggravated robbery and kidnapping incident, that took place in the 1300 block of Flint Hills Place last month, appeared in Riley County Court Tuesday afternoon via webcam.
Ortegas Tune, Rasheem Wilson, and Kaywaun Washington are all currently being held in the Riley County Jail.  All three of their attorneys appeared in Judge William Malcolm's courtroom for their status hearings.
Prosecuting State Attorney, Barry Disney asked that the cases be set for a joint-preliminary hearing.  He pointed out he was not asking the cases be heard all together, but rather that all of the witnesses take the stand on one day and have all of the attorneys cross-examine the witnesses at that one time.  Disney added, he still would want the cases considered separately.
Tune's Attorney, Brenda Jordan disagreed with this request.  She asked Judge Malcolm to deny jointly conducting the cases, and asked they each be handled separately.  Both Wilson and Washington's attorneys agreed with Jordan.
However, Judge Malcolm denied Jordan's request, and instead went with Disney's recommendation of conducting the preliminary hearings together.  The three cases were set for December 19th at 11 a.m.
——————–
Another status hearing was held for the Fort Riley soldier who was charged with murder in the first degree and abuse of a child, after a five week old suffered several injuries back in February.
Alexander McConnell appeared in Riley County District Court via web cam, while his attorney-Lora Ingels appeared in person.
McConnell's case was set for another status hearing on December 16th at 1 p.m.