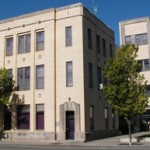 Advanced voting polls closed at noon on Monday, and numbers had already surpassed the previous gubernatorial election statistics.
Riley County Clerk, Rich Vargo reported during Monday's county commission meeting that 3,145 county residents had participated in advanced voting in person as of Saturday. 892 ballots had also been received in the mail at that point.
Vargo said, "with those figures, we are at 4,037 so far that have participated, which has exceeded the 2010 numbers.  We had 3,250 that year.  So we'll beat 2010's numbers by over a thousand easily".
Election day polls will be open from 7 a.m.-7 p.m.
———-
The meeting's press conference featured several upcoming events and updates.
Other agenda items included a 2014 employee training day follow up from Human Resource Manager, Cindy Volanti and a re-zoning presented by County Planner, Bob Isaac.