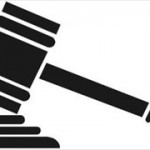 A couple of area court cases will be argued before the Kansas Supreme Court next week.
A former Fort Riley soldier charged with the shooting death of a Kansas National Guard member January first of 2012 is appealing to the high court, with an appearance December ninth. Daniel Parker was sentenced  in October of 2013 in the first degree murder of 21 year old Frederick Beverly. Parker was given a life sentence by Riley County District Court Judge David Stutzman. At the time of the sentencing, Barry Disney with the Riley County Attorney's office requested a minimum of 20 years for the murder, to serve consecutive with 59 months for ciminal discharge of a firearm. Defense Attorney Ron Evans asked for concurrent sentences.
The other local case involves Justin Dern in a 2010 Pottawatomie County conviction involving two counts of aggravated criminal sodomy. The Kansas Court of Appeals affirmed Dern's conviction in May of 2013. In the 21 page document, the Court indicated by applying current Kansas law the two counts should stand and stated there was sufficient evidence to support Dern's aggravated indecent liberties convictions. Dern's case is before the Supreme court on December 11th.