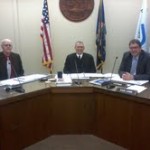 Road, bridge and culvert projects, that have yet to be funded in Riley County, are compiled together on a list.  Riley County Commissioners have viewed this list during previous meetings, but reviewed it again during Monday's meeting.
Public Works Director, Leon Hobson requested the commission prioritize the list of sales tax projects.
"This is about the fourth time that I've brought this issue to the commission, and I would like to get an answer one way or the other.  Either we're going to prioritize, or we're not.  I have other things to do other than just present something else again", Hobson commented.
The commission came to a consensus that the Marlatt/Denison project was of highest priority.  Although design on that project should start soon, Hobson said the project will not officially start until 2017.
Commission Chair, Robert Boyd indicated he did not have enough information about each of the bridge projects on the list in order to prioritize them.  Hobson said he remembers presenting details previously, but will re-send that information.
During Hobson's time, he also presented subdivision design standards.  He stated the planning and development department have been working on the documents for some time now, and incorporated suggestions from local builders.
The commission unanimously chose to approve the design standards.