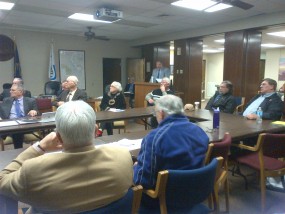 Fairmont Park could possibly be formed into a benefit district in the future.  This concept was discussed during Thursday's joint Riley County/Pottawatomie County/Manhattan City Commission meeting.
Planning and Special Projects Director, Monty Wedel and Riley County Environmental Health Specialist, Steve DeHart shared the process they have taken to get to this point, and explained the reasoning behind needing a benefit district.
When putting the concept to a vote, 67% of Fairmont Park residents voted that they were in favor of the concept (yes-18, no-8, abstained-1).
The total cost of the concepts is estimated at $318,800.  Commissioners mentioned that may have been the reasoning behind the "no" votes, as they may be in favor of the idea-just not the price.
"I don't see any other option", commented Manhattan Mayor, Wynn Butler.
All of the commissioners agreed to proceed with the process.  The next step will be to put together an official petition.
————–
The only other item on the agenda involved U.S. Highway 24 alternate routes.
Pottawatomie County Commissioners are still working towards designing the Marlatt/Junietta extension project.  But the question Riley County Commissioners had is-what is going to be the most feasible way to hook up to Highway 24?
Commissioners debated a few different locations on where the road should "dump out" into.  They looked at connecting the road at Marlatt, Barnes or even further north.  The issue they ran into was, if the connection was made too far north-it could impact the traffic study, but if it's too far south-it could impact the long term benefit of the road.
Flint Hills Metropolitan Planning Organization Transportation Planner, Stephanie Watts was in attendance for the meeting.  She stated the MPO would create a model connecting the road at Barnes.  The commissioners could then discuss whether this is the best option, or to move the connection to a different location.