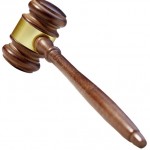 As KMAN has previously reported, a Manhattan man was charged with attempted murder last month after a woman was reportedly stabbed.  That man appeared in Riley County District Court, via web cam, Tuesday afternoon.
Samuel Dartez (30) appeared, alongside his attorney, Larry McRell, for another status hearing.  McRell asked that the case be set for either another status hearing, or set for a preliminary hearing sometime in late January.
Judge William Malcolm and Prosecuting State Attorney, Barry Wilkerson seemed to agree it'd be best to set it for a prelim.
Dartez's preliminary hearing will be held on January 30th at 9 a.m., and the entire day was set aside for this matter.