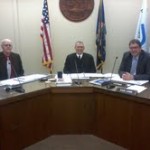 Riley County Commissioners approved the public building commission (PBC) during their last commission meeting, but officially signed the resolution on Monday.
After unanimously approving to sign the resolution, the commissioners provided comments on the matter.
Commissioner, Ron Wells started out by mentioning how disappointed he is in the Manhattan Free Press.  He also stated he was disappointed in some of the area residents who never changed their negative views about the PBC.  He re-affirmed-the PBC is a financial tool that doesn't ever have to be used if it's not needed.
Commissioner, Dave Lewis said he hadn't received any additional comments on the PBC lately, but he has heard a few comments about taxes.  One county resident approached Lewis about not wanting his taxes increased.  Lewis said he had to explain that more and more unfunded mandates from the state are being passed down to local government entities, which means they have to find ways to fund them.
As far as Commission Chair, Robert Boyd's comments, he prepared a letter ahead of time expressing his thoughts on the entire PBC process.  "The PBC decision was a conventional, executive decision.  The county staff comprehended the reality of the situation the county faced long before the current commission was seated.  We had great needs, which had been deferred for years.  Upon completion of our due diligence, the course forward was evident-a public building commission was required", said Boyd.
Boyd thanked the members of the public, who attended PBC informational meetings, for their concerns and comments during the entire process-many of which were incorporated into the proposed bylaws, which have yet to be approved.