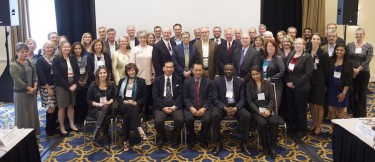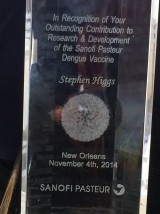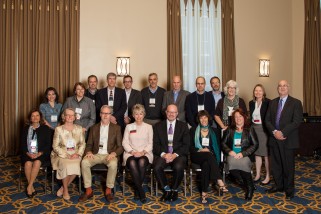 One of Kansas State University's leading figures in research was recently recognized for his contributions to the field of insect virology.
Stephen Higgs, director of the Biosecurity Research Institute, associate vice president for research, university distinguished professor and Virginia and Perry Peine biosecurity chair, was named the president-elect of the American Society of Tropical Medicine and Hygiene at the society's 63rd annual meeting in New Orleans, Louisiana.
Higgs attended the council meeting with Bill Gates, who has contributed millions of dollars to accelerate vaccine development for dengue fever and other viruses.
Founded in 1903, the American Society of Tropical Medicine and Hygiene is a worldwide organization of scientists, clinicians and program professionals. Its more than 300 members work to prevent and control infectious and other diseases that disproportionately affect lower-income populations throughout the world. In 2012, the executive director and president of the society came to Kansas State University to meet with students and faculty — the first time that the society had ever officially visited a university.
Higgs has been a member of the society since 1993. This year, he was co-chair of the symposium "Detection of chikungunya in the Western hemisphere — current situation and prospects for the future."
Higgs' research focuses on mosquito-virus-vertebrate interactions. He is regarded as one of the world's leading experts in vector biology, arthropod-borne infectious diseases, immune modulation and vaccine evaluation in mosquitoes.
A large focus of the American Society of Tropical Medicine and Hygiene's meeting concentrated on Ebola. Participants heard testimonies from people working with communities in Guinea, Liberia and Sierra Leone, where the epidemic has hit the hardest, as well as from those developing and testing vaccines for the disease.
News also was announced that the company Sanofi Pasteur's dengue fever vaccine had successfully completed phase III clinical trials in Latin America. Dengue fever is a mosquito-borne disease that infects about 100 million people a year.
Higgs was honored with a Sanofi Pasteur Award for his outstanding contribution to research and development of the Sanofi Pasteur dengue vaccine.
"This was a totally unexpected honor," Higgs said. "It is based on some of the molecular virology work that Sanofi Pasteur has supported at the Biosecurity Research Institute."