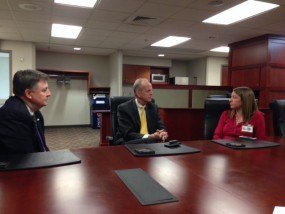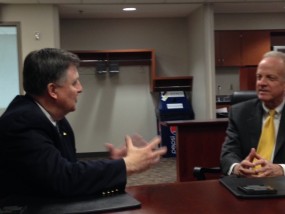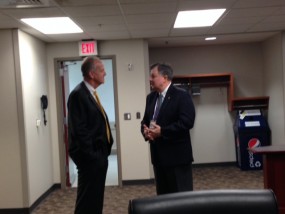 U-S Senator Jerry Moran of Manhattan  got a close look at Mercy Regional Health Center Friday, with a tour of the medical facility–including stops in the emergency room and operating area. Moran told Chief Financial Officer Jim Fraser and Public Relations Director Jana Bowman he's visited 128 hospitals in the state of Kansas–and he had questions for the Mercy officials about medicare, the change to Via Christi and construction,  and affordable health care.
Following the tour, the Senator chatted with media representatives about that final item and current health care, saying "In reality the affordable care act creates many problems. That's not to say our previous health care system was not without faults." He suggests an incremental approach, eliminating the things that drive up the cost that really aren't necessary such as the bureaucracy and paperwork. Moran also suggests encouragement of wellness, fitness, diet and nutrition.
The Senator predicts there will be changes this next year, with elimination of some of the provisions and mandates with the Affordable Care Act. Moran also expects  the return to a 40 hour work week, and elimination of other difficult portions. He says he wouldn't be surprised to see a proposal for total repeal, but adds that would not be a piece of legislation the President would sign.
Moran also told Fraser and Bowman he is the lead Republican in the new Congress in the appropriations subcommittee that has Health and Human Services, including C-M-S, or Centers for Medicare and Medicaid Services, under its jurisdiction. The Manhattan medical center though only has 30-40 percent Medicare patients, with the Senator indicating many of the other places he's visited in Kansas having up to 90 percent Medicare.
 Earlier in the day he visited with New Horizons RV in Junction City.
While U-S Senator Jerry Moran of Manhattan was touring the Mercy Regional Health Center Friday, he also commented on continuing concerns about federal funding for the National Bio and Agri-Defense Facility to be located in Manhattan. He admitted there's still work to be done on finalizing the 400 million dolars needed to complete the project…
Moran told reporters his main concern is the increasing cost of NBAF as it continues to be delayed, but none of this in his view "diminishes the chances that NBAF is going to be funded or going to be built."
The Senator says there's been a request to add the funding to the Homeland Security continuing resolution, which would be difficult. Some action on NBAF funding is anticipated this next week.