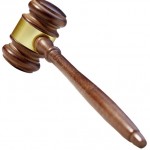 One of the few individuals charged in the aggravated kidnapping incident, that took place in the 1300 block of Flint Hills Place back in October, appeared in Riley County District Court Tuesday afternoon.
At 2:30 p.m., Kaywaun Washington appeared for his hearing in Chief Judge Meryl Wilson's courtroom.  Washington's attorney, Britain Stites stated that Washington was willing to waive his right to a speedy trial.  Judge Wilson accepted the waiver and set the case for a jury trial on April 8th-10th.
Stites also requested a motion's hearing court date prior to the trial, which was set for March 25th at 9 a.m.
Prosecuting State Attorney, Bethany Fields chose to address another matter in reference to Washington's criminal history.  She mentioned Washington's failed attendance for a drug test which is a violation of the terms and conditions of his probation.
Judge Wilson ordered him to serve the remaining sentence with Department of Corrections as he said the matter has been going on for a "significant period of time".