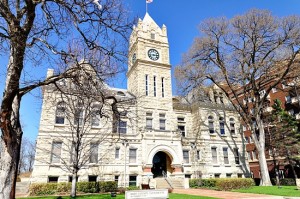 An alleged aggravated battery case involving a firearm and a marijuana deal, was discussed during a preliminary hearing Thursday afternoon.
The incident is said to have taken place back in July, and resulted in the arrest of two men.
One of the men arrested in this case is Trey Campbell, who appeared in Judge William Malcolm's courtroom alongside his attorney, Jillian Waesche.
Prosecuting State Attorney, Barry Disney called Hudson Philip to the stand as a witness.  Philip stated he was one of the people involved in the sale of marijuana to Campbell and Ty Suggs, who is the other person arrested in this case.
Philip was asked questions regarding the details of the day.  He stated Campbell and Suggs arrived between noon and one o'clock to purchase eight ounces of marijuana.
Philip said a silver semi-automatic handgun with a black handle was displayed, and was pointed at his abdomen.  Campbell then reportedly told Philip he was going to take all of the marijuana instead, which was around 13 ounces.
In addition to taking the marijuana, Philip said Campbell commented, "if I hear my name in anything about this, you'll see what I'm really about".  Philip stated Campbell then shoved the marijuana in his pants and left the apartment.
During Waesche's cross-examination of Philip, he stated he allowed Suggs and Campbell to try the marijuana before allowing them to purchase it.
Judge Malcolm did find there was probable cause to move forward with arraignment, which was scheduled for February 2nd at 9 a.m. in Judge David Stutzman's courtroom.
Waesche also requested to address bond.  Campbell's bond was originally set at $50,000 but was previously reduced to $37,500.
She stated Campbell has a limited criminal history, wants to enroll in school, was an athlete, and has no prior felonies.  She requested the bond be reduced to $5,000.
Disney mentioned several failure to appear charges, and said the current case is a severe home invasion robbery that involved a deadly weapon.  He added, reducing the bond to $5,000 is "totally unreasonable".
Judge Malcolm chose to keep the bond at the same amount.