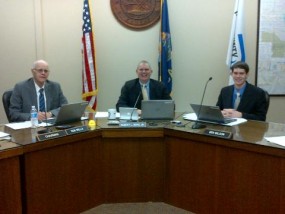 Values are chosen for all the approximately 24,000 real estate parcels in the county.  These values are established by the Riley County Appraiser's office.
During Thursday's Riley County Commission meeting, County Appraiser, Greg McHenry said his department has just completed the 2015 final review process.  Change of value notices will be sent out on February 13th.
This is two weeks ahead of the March 1st deadline, which McHenry said is due to the fact that his department sometimes has heightened years for notices.  If the amount of notices is lower, then it just gives the appraiser's office a head start on the next portion of their work.  McHenry called it a "win-win situation".
McHenry spoke briefly about a few bills he is keeping track of in the Kansas legislature.
House bill 2070 would allow appraisers to exempt properties used for county/city purposes without having to file applications with the Board of Tax Appeals.  Another bill concerning appraisers is house bill 2071, which would allow for the removal of appraisers from the State eligibility list if/when an appraiser is convicted of a felony.  McHenry said both of these bills are sponsored by Property Valuation Division.
As far as last year's residential sales, McHenry reported a total of 1,303.  The median sale price was $175,000 compared to approximately $172,000 in 2013.