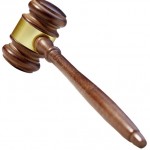 The Manhattan man who pleaded guilty recently to an aggravated assault charge, involving a June incident, appeared in Riley County District Court Tuesday morning.
Kevin Flynn, who is a medic in the Army, appeared in Judge David Stutzman's courtroom wearing his dress blues, alongside his attorney-Barry Clark.
Prosecuting State Attorney, Bethany Fields requested Flynn be sentenced to 11 months with the department of corrections, probation after, and paying $220 in costs and restitution.
Clark pointed out this is Flynn's first issue with law enforcement, and stated he was "quite intoxicated" when the offense occurred.
Judge Stutzman allowed Flynn to share a final statement.  Flynn thanked the judge for his time, and said he recognized's this was a reckless, dangerous and stupid act.  He added that he knew it could have ended a lot worse and was thankful nobody got hurt.
Flynn was sentenced to a year with the secretary of corrections for aggravated assault and two years probation but will not face time in jail until he is finished with military duties.  However, Stutzman did not order Flynn to pay the restitution costs, as he feels that's something that should be taken up with the apartment landlord.
Stutzman concluded with, "you're right Mr. Flynn, this could have turned out very differently".