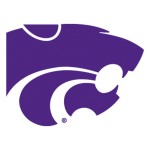 Updated 11:30 a.m. Wednesday:
Kansas State University provided a news release late Wednesday morning regarding the Feb. 23rd Kansas State University basketball game in Bramlage Coliseum. The release indicates, as previously reported, a K-State student ran on the court and made contact with a University of Kansas player.
K-State authorities add student Nathan Power voluntarily met with K-State police and was issued a notice to appear for disorderly conduct. Power was described as cooperative throughout the process, and the K-State Police Department considers this matter closed.
Provost April Mason told KMAN during a Wednesday morning interview, the incident court side following the K-State/University of Kansas basketball game has put the university in a somewhat negative light. Mason, who also serves as the University's Senior Vice President, says it's time to get back to what K-State is usually known for and that's standards she lists, which include being respectful, celebrating appropriately, and working with and welcoming every other university and individual who visits the campus.
####
KMAN learned late Tuesday that the Kansas State University student who made contact with a University of Kansas Basketball player following K-State's victory over KU on Monday night has turned himself in.
Don Stubbings with K-State Police tells KMAN that they were no longer looking for the student but that he had not been arrested. Stubbings said the student was cooperating with authorities and that a release would be issued on Wednesday. Police would not release the student's identity on Tuesday evening.
However The Collegian at K-State has a letter allegedly from the individual who shares an apology for bumping Jamari Traylor during the court storm. Nathan Power says he simply let his emotions get the best of him in all the chaos and in his excitement was not careful of the people he was around. He says he's sorry he made the KU basketball team feel disrespected and apologizes for breaking from the Wildcat way.