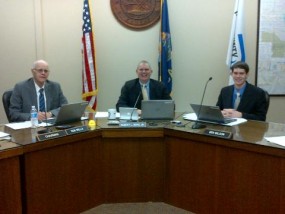 A Florida company submitted the only bid to be opened during the Riley County Public Works sign truck bid opening, held during Monday's county commission meeting.
Stamm Manufacturing of Fort Pierce, FL submitted a big of $113,580 for a sign truck.
This one bid was approved for to move forward for staff evaluation and recommendation.
——-
The majority of the meeting was used for the press conference.  Local organization leaders came forward to share updates and details about upcoming events.
Downtown Manhattan Executive Director, Gina Scroggs said new poles, lighting, and flower basket attachments will soon be installed from Humboldt to Juliette.  15 poles will be replaced during this project.  She added, efforts to get a parking garage at 3rd and Houston are continuing to move forward as well.
Pastor Patrick McLaughlin mentioned the next "Everybody Counts" event which will be held on Saturday at the Riley County Senior Services Center from 10 a.m.-3 p.m.