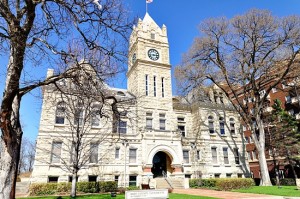 As KMAN previously reported, an affidavit released additional information regarding an involuntary manslaughter case.  The Manhattan man charged in that case appeared in Riley County District Court Tuesday afternoon.
Ryan Routson is charged with DUI, aggravated battery by DUI, possession of methamphetamine, drug paraphernalia and involuntary manslaughter.  The affidavit mentioned a stillborn baby that was born to an unidentified victim the night of the accident, which took place on Highway 24 in May.
Routson appeared in court alongside his attorney, Britian Stites.  Stites requested a continuance for another status hearing-which was set for March 17th at 1 p.m.