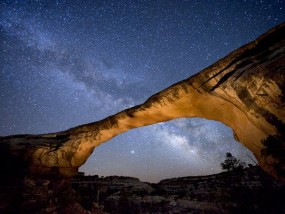 Photographer Jim Richardson grew up on a farm just north of Belleville, but for the past 30 years he's been travelling the world for National Geographic, with an eye toward  "Feeding a Hungry Planet." Richardson came home to Kansas and his alma mater Kansas State University in recognition of Kansas Agriculture month, and shared his story–which may not be quite as exciting as many of us may think. Richardson says its much more boring research than romantic photography. He says you have to find the right place to stand–a really dig in to make an interesting picture in an area others may not be interested in.
The internationally known photographer also  told a group of Kansas photographers at a workshop held at the Kansas Department of Agriculture he originally studied engineering, history, music, and finally psychology, before discovering how much he loved photography while working at the K-State Collegian. Now he travels the world–.from a seed bank in the frozen Arctic. to the mountains of Peru, with potato farmers. Other stops include China, Peru, Ethiopia,  and the Ukraine.
Richardson admits he's trying to get the word out on food production needs, as those needs are expected to double in the next 35 years.  He adds he's concerned about feeding the estimated 9 to 9.5 billion people expected in our world by 2050–a couple billion leap from today's 7 billion people around the globe.
And he says Kansas State University has a big role to play in research and education when it comes to food production.
Richardson presented workshops, a lecture, and helped with a panel of Kansas agriculture experts during his visit. His lecture Wednesday night at Kansas State's Union Little Theatre involved a visual journey of "Feeding a Hungry Planet."
Richardson was in Manhattan as part of Kansas Agriculture month and a guest of the Kansas Department of Agriculture and several other agricultural sponsors and organizations across the state.